Reinventing hospitality amid huge staff shortages
By Jean Baptiste Pigeon
Whoever has travelled recently would have noticed that the hospitality sector has taken a monster punch.
The pandemic has knocked out too many vital protagonists, leaving the industry hamstrung for labor. There are simply not enough people. In many countries, hotels and restaurants have completely reopened but with limited service and elongatated wait times. RoomOrders is seeing restaurants filled with empty tables and only two servers trying to keep up with immense demand.
During summer, frustration was painfully visible on the faces of guests at sprawling resorts, desperate to flag down a waiters that were as rare as humpback whales in the Adriatic Sea.
But what I find more alarming is what we are seeing happen during the recovery phase. A recent Bloomberg poll conducted on 13,000 job seekers, indicated more than half of U.S. hospitality workers said they wouldn't go back to their jobs, while over a third said they aren't even considering reentering the industry. They cited low pay, workloads and unappreciation as key factors for what is now being called the Great Resignation.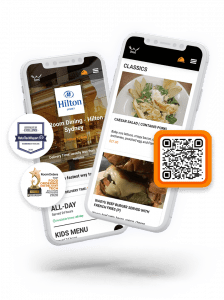 As an advisor for RoomOrders, I think we are watching a paradigm shift in the hospitality industry. Some things will never return to normal.
Here are some of my observations:
1. Guests: I think that hotel and resort guests have been through a lot and they will be seeking a special kind of comfort from hospitality providers. The Covid-19 pandemic has left many without jobs, buyers or workers and they know that spending money is what makes the world go around, so this time they want to see exceptional value behind their consumption. This will be tricky, as they will crave reassurance about their safety, yet at the same time demand low contact with staff or other guests.
The perceived value of their hard-earned cash has increased coming out of the pandemic, and they will not accept mediocrity, nor risks.
2. Hospitality staff: A lot of hospitality workers feel like they have been used and dispensed of without slightest consideration. Many were students or foreigners and had no choice but to return home. They lost their only source of income and having no welfare to fall back on like local staff, they had no choice but to abandon careers that were cut short before they even got off the ground. With the global tourism sector growing rapidly, it was natural for starters to climb the ladder from servants to managers at a reasonable pace, the pay-sacrifice totally commensurate with the short wait to an elevated status, with training and a title to boot. Understandable, with the industry still in tatters, returning to low pay and low status on indefinite timeline is hardly an attractive career choice.
And here we are, hospitality is desperate for workers, while workers have gone on to pursue other professions.
Now the industry is scrambling — scrambling for people and scrambling to give guests a better experience than before.
Could there be a more appropriate time for disruption? The hospitality industry is one of the slowest to adapt – hotels are probably the last refuge of fixed phones in any business? Everybody is ready to throw out the old and bring in the new. It's time to revolutionize the way hotels and resorts operate, the industry needs to digitize in a way to assuage the labor shortage, while at the same time increase guest experience.
There needs to be a solution that uses technology to boost satisfaction.
How can a smaller workforce provide improved experience?
I think the hospitality sector should follow the RoomOrders playbook.
RoomOrders digitizes hotel and resort operations, particularly fod and beverages, where most staff is required. From procuring to cooking, preparing, waiting and serving. Whether it be in rooms or suites, apartments or camping bungalows, or poolsides, beachfronts, rooftops and golf tees, RoomOrders offers self-service via guest smart phone devices.
Customers have grown to expect on-demand service. Weaned on Amazon, Uber, Netflix and other instant services, particularly during the pandemic, consumers have become accustomed to ordering anything and everything at their fingertips.
RoomOrders hops on this tidal wave, customizing the digital delivery service for hospitality, especially hotels and resorts.
Guests simply scan a QR code or tap an NFC tag to order and pay for goods and services. They no longer have to wave down waiters or line up in queues, adhering to distancing rules and requirements.
The industry needs to realign and restructure programs that are highly efficient and take a lot less people to execute.
Hospitalty needs to face up to the reality that many workers will never return and that they need to adapt their processes to the 'new normal,' of doing things with a labor light, low touch approach.
This will mean a change in hiring too. Hotels and restaurants will need to look for people with more passion and energy to interact in new ways with guests, as the simple tasks have been replaced by simple tech, rather than simple employees.
The hospitality industry can maintain sustainability by pushing forward with continued education, development and career growth to maximize potential and optimize output.
Maybe it is time to abandon the tipping culture, forever eliminating low paying jobs that depend on gratuities?
As pressure builds to reinvent the hospitality model, the time is now to rethink the entire physical hotel structure that has been the same for 50 years. The industry must redesign its structures in a way that creates experiential moments and drives guest engagement by incorporating more of a community aspect.
RoomOrders offers hotels and resorts add-on features to connect with their community of vendors. If a hotel does not have a restaurant, but is surrounded by a few eateries, it can easily integrate to expand food options to their guests. The relationship is a win-win-win for hotels, guests and local vendors.
Not only that, RoomOrders can connect hotels with other vendors, like leisure and experience – whether it be a health spa, excursion, tourist attraction, bike rental, ski tickets, golf course, or much more.
The industry must see this mass labor exodus as a time to start investing highly in the people who run it by cultivating passionate professionals through giving them unbelievable skillsets and the opportunity to make money and serve guests with pride.
The hospitality industry needs to alter the mindset of how it works, beginning from its core foundations.